Benson Stone Co. is Experienced
• Rockford's most experienced fabricator with five generations of stone-crafting experience

• State-of-the-art technology
• The area's largest selection of in-stock slabs
• Expert design assistance
• Superior quality fabrication & installation
• Low price guarantee
Benson Stone Company has been in the stone business since 1930 and has maintained the principles of quality craftsmanship and good customer service for five generations. This business was built by hard working people that valued quality workmanship, and our goal has always been to maintain that reputation.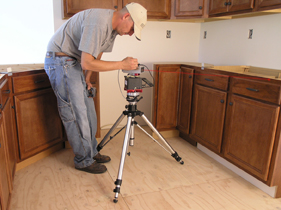 Today, we strive to stay on the cutting edge of technology to ensure that our production is as efficient as possible. We use a highly-accurate laser that makes an electronic template of our customers' cabinets. This process is faster and more accurate than conventional measuring/templating, and it allows us to fabricate the countertops to extremely-precise dimensions. In our shop, we currently run three state-of-the-art, computer-controlled machines to cut and polish the granite. This allows us to produce kitchens much more quickly than any other granite shop in the Rockford area.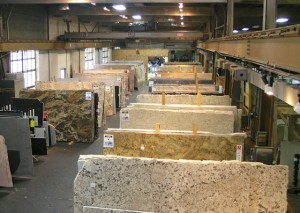 We also carry the largest selection of in-stock slabs in the Rockford area. We invite you to come see our massive slab warehouse for yourself.
When you buy granite from Benson Stone, you also get free expert design assistance from our amazing staff. They will help you find that perfect slab, and they can also help match colors and make other difficult design decisions.
At Benson Stone, you get the knowledge, personal service and craftsmanship of a family-owned business at pricing that competes with even the big-box stores.