---
---
Dining Room Furniture Sets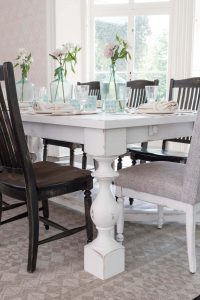 Your dining room set is some of the most important furniture in the house. This is where you'll have dinner with family and friends, celebrate birthdays and graduations, and where you'll create memories that will last forever. At Benson Stone in Rockford, IL, you'll find quality dining sets that are worthy of the memories you'll make around them, and dependable enough to last just as long. Come and see for yourself why Benson Stone was voted the area's the #1 Furniture Store! 
The Best Quality Dining Sets
At Benson Stone, the idea of a family heirloom furniture is alive and well. Here, we value quality above all else, so you won't find any of the cheaply-made dining tables and chairs here that are so common in other stores. Our store specializes in sturdy, American-made brands and table and chair sets that can be customized to fit your unique style. The dining room furniture we feature here in our showroom is designed with care, so it's more comfortable, more beautiful, and built to host your family and friends for years to come.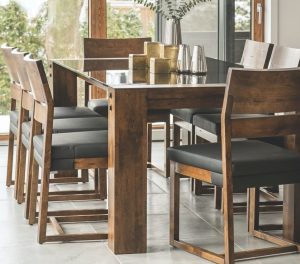 The Lowest Prices on Dining Room Furniture
Thanks to our affordable neighborhood location, we're able to provide our community with top-quality furniture at incredibly low prices! When you shop with us, you'll get a great deal on your new dining room furniture. In fact, we promise you won't find the same products for a lower price anywhere else — that's our Low Price Guarantee! 
Customize Your Dining Room Set with Our Designers
Our huge furniture showroom is home to over 50 dining room display sets of all different styles. But you can rely on our talented furniture design team to help you create the perfect custom set to fit both your style and your budget! Choose your new dining table and chairs, hutch, buffet, dining bench,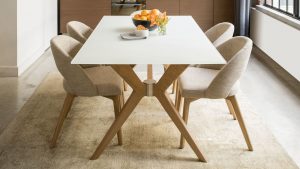 bistro table, breakfast booth, kitchen island, bar table and stools, and even dining room décor and rugs with your talented designer by your side. Whether you'd like a rustic or farmhouse style dining room, a modern minimalist dining room, or a transitional style somewhere in between, our skilled designers will guide you coordinate everything to create the dining room of your dreams.
Don't settle for less. Find the dining room set you really love, at Benson Stone!
---
Customer Reviews
★★★★★
We enjoy doing business with Benson Stone Company. We recently purchased a dining room set, a corner desk set, a couch, ottoman and 2 chairs. All were delivered and set-up in our home as planned. The sales group and delivery personnel are all friendly and helpful. I recommend Benson Stone to all who have not yet experienced their wonderful store and warm people.
John, 2019
★★★★★
Our Design Consultant did a fantastic job of helping me choose and order my custom furniture – what a great person to work with. Thanks to Coleen, I thoroughly enjoyed the whole experience. My furniture also came in a few weeks early, and the delivery personnel were ultra-careful and respectful of my home and my new furniture. Benson Stone is an excellent place to buy furniture. It's the first place I mention when friends and family ask for a good place to purchase quality furniture.
Karen, 2019
★★★★★
Everything from purchase to delivery was top notch 👌. I bought some very high quality furniture for a really terrific price, actually the best price I could find for what I wanted.
Brenda, 2019