---
---
Leather Furniture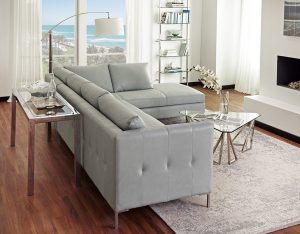 Here at Benson Stone, leather furniture is our specialty. Visit our beautiful, historic showroom to browse the area's largest selection of leather furniture. Our leather gallery features displays from Hancock & Moore, Bradington Young, Omnia, Smith Brothers of Berne, Omnia and many more! We've been voted the area's #1 Furniture Store thanks to our commitment to quality, our low price guarantee, and our talented staff of furniture designers. So whether you're coming from across town or from miles away, your visit to Benson Stone will be time well-spent. This is a destination like no other!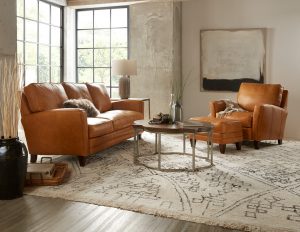 Invest in Lasting Quality with Leather Furniture
The elegance and comfort of a high-quality piece of leather furniture is truly beyond compare. And at Benson Stone, we only carry furniture that we'd be proud to recommend to our own family and friends. So when you shop here, you won't find any of the flimsy leather furniture that the other stores are full of. Whether you're shopping for economy leather or the best leather money can buy, we specialize in strong, sturdy furniture that's handcrafted with care, right here in the USA. The leather pieces in our beautiful showroom are carefully designed to be the most comfortable, most durable, and most attractive ones available, so you can rest assured that they will last in your family for years to come! Visit our store to try them out, and experience the remarkable difference of high quality furniture.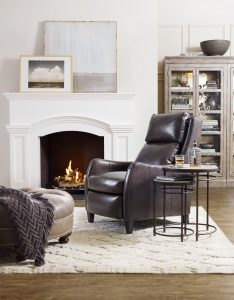 We Make Luxurious Leather Affordable
Leather is great value because it lasts much longer than fabric. With our low price guarantee, these high-quality brands don't come with high prices. Our wide selection offers something for everyone, from budget-friendly leather to extraordinary. Thanks to our affordable neighborhood location, we're able to provide our community with top-quality furniture at incredibly low prices. When you shop with us, you'll get a great deal on your new leather furniture. In fact, we promise you won't find the same piece for a better price anywhere else — that's our Low Price Guarantee!
Designers to Help You Choose the Perfect Leather Furniture
One of the best things about shopping here at Benson Stone is working with our wonderful staff. Our expert furniture designers will guide you in choosing the best furniture for your home. Many of the leather pieces here in our showroom are customizable, so you can select the perfect colors, leather grade, frame and shape to fit both your unique style and your budget. Whether you're looking for a stylish leather sofa, a spacious leather sectional for hosting guests, a classy leather accent chair or arm chair, a leather recliner for lounging, or a leather ottoman for a sophisticated flare, our designers will help you make all the best choices for your home! We're blessed to have an amazing team of experts, and their commitment to customer service is beyond compare.
---
Customer Reviews
★★★★★
We enjoy doing business with Benson Stone Company. We recently purchased a dining room set, a corner desk set, a couch, ottoman and 2 chairs. All were delivered and set-up in our home as planned. The sales group and delivery personnel are all friendly and helpful. I recommend Benson Stone to all who have not yet experienced their wonderful store and warm people.
John, 2019
★★★★★
Our Design Consultant did a fantastic job of helping me choose and order my custom furniture – what a great person to work with. Thanks to Coleen, I thoroughly enjoyed the whole experience. My furniture also came in a few weeks early, and the delivery personnel were ultra-careful and respectful of my home and my new furniture. Benson Stone is an excellent place to buy furniture. It's the first place I mention when friends and family ask for a good place to purchase quality furniture.
Karen, 2019
★★★★★
Everything from purchase to delivery was top notch 👌. I bought some very high quality furniture for a really terrific price, actually the best price I could find for what I wanted.
Brenda, 2019