Dining Table
Find Your Perfect Dining Table 
With so many options to choose from, finding the perfect dining table for your home can be a real adventure. When you work with our award-winning team at Benson Stone, we'll help you get your furniture shopping journey started off on the right foot. This handy guide will give you a good overview of what to look for when you're in the market for a new dining table. 
Choose Quality Furniture 
The most important factor to consider when you're shopping for a new dining table is the quality of the design. A cheap table may look great at first glance, but if it's only held together with staples or glue, you'll find it starts to wobble after only a few months of use. Look underneath the table to confirm that the joints are made of wood, and that they're tight fitting, and don't show any signs of gapping. You'll also want to ensure that your dining table isn't easily susceptible to nicks or scratches. Test the table top with your fingernail, to check that the finish doesn't mark easily. 
Here at Benson Stone, we specialize in high-quality furniture that's built with care. No matter what your budget is, you can rest assured that when you shop here, you'll only find dining tables from reputable manufacturers that we'd be proud to recommend to our own family and friends. Thanks to this unwavering commitment to quality, we've been voted the #1 furniture store in the Rock River Valley! 
Create a Custom Dining Table
Almost every brand in our furniture showroom offers customization options, so you can create a dining room table that's unique for your home. Our talented furniture designers will help you create the perfect table to fit your room, your style, and your budget. They can also help you coordinate the furniture and decor of your entire room, or your entire home. 
Dining Tables for Every Style 
Whether your home is traditional, contemporary, or somewhere in between, we have dining tables for you! A few of our most popular styles include… 
Farmhouse: Farmhouse dining tables are usually made of rustic, antiqued, or weathered solid wood. They feature trestle, or heavy carved leg table supports. This is a popular style in midwestern homes, since it gives the dining room that "lived-in" look and a sense of history and craftsmanship. This style is very popular these days, so our showroom features an amazing selection of farmhouse dining tables. 
Traditional: A traditional style dining table has a more refined look, with polished hardwood carved into elegant curved designs. They pair very well with upholstered dining chairs. These generally have a more formal feel, perfect for hosting a stately holiday dinner. Our furniture gallery features customizable traditional styles from a wide variety of manufacturers, so you're sure to find the one that's perfect for your home. 
Modern: A modern or contemporary dining table has a much simpler design, with clean lines, sharp angles, and geometric shapes. Like the other styles, they are commonly made of wood, but they may also be crafted from glass, metal, porcelain, or stone. Our showroom features urban, nordic, midcentury modern, and industrial style furniture to suit your unique taste. 
Try Before You Buy
The most valuable piece of advice we can give you about your new dining table is to try it out in person before you buy it! Online shopping can be very convenient, but it's almost impossible to judge a piece of furniture based on photos alone. You'll want to evaluate the construction, see the colors and shapes in real life. You'll also want to go ahead and actually sit down at the table to make sure it fits your body. Checking all of these boxes ahead of time will save you a ton of hassle down the road!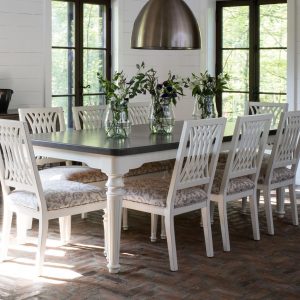 Measure Your Room 
Finally, it is always a good idea to measure your room before finalizing your furniture purchase. You'll want to ensure that the dining table makes the best use of your space. Our talented furniture designers can take the guesswork out of this process for you,  and they will coordinate pieces to perfectly fit your room, if you need. 
Above all, we believe your furniture shopping experience should be easy and fun. Visit our award-winning furniture showroom at 1100 11th St in Rockford, IL. Find out how enjoyable the creative process can be!