---
---
Recliners and Power-lift Chairs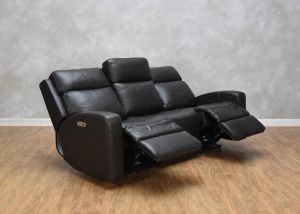 Come and browse the huge selection of recliners in our beautiful, two-floor furniture showroom at Benson Stone in Rockford, IL. When you're looking for new furniture for your home, it pays to shop local! Avoid the cheaply-made furniture and the high markups that are so common in the big chain stores and online retailers. We've been voted the area's #1 Furniture Store thanks to our high quality products, our great low prices, and our amazing and talented staff. Come and see for yourself! 
Shop Our Top Quality Recliners
At Benson Stone, the idea of a family heirloom furniture is alive and well. Here, we value quality above all else. Our store specializes in sturdy, long-lasting recliners. The reclining chairs, sofas, and sectionals in our showroom are designed with care, so they're more comfortable, more beautiful, and built to last in your home for years to come.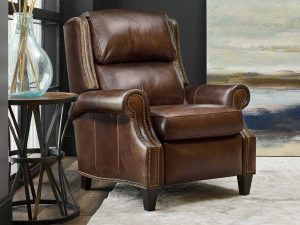 The Best Low Prices on Popular Recliners
Thanks to our affordable neighborhood location, we're able to provide our community with top-quality furniture at incredibly low prices. When you shop with us, you'll get a great deal on your new reclining chair or sofa. In fact, we promise you won't find the same piece for a better price anywhere else — that's our Low Price Guarantee!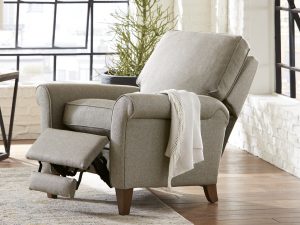 Designers to Help You Choose the Perfect Recliner for Your Home
You're going to love working alongside our talented furniture designers! They'll help you tie everything together to create the home of your dreams. Whether you're looking for a stylish leather recliner, a comfy reclining sofa, a sturdy reclining lift chair, a relaxing rocker recliner, or an ergonomic recliner and ottoman, our designers will help you find the perfect furniture for your home! Plus, many of the recliners in our showroom are customizable, so your designer will help you choose the perfect features to bring your whole room together. Whether you're interested in a modern style, traditional style, rustic farmhouse style, or something in between, our team is here to help. 
At Benson Stone, shopping for new furniture is fun and relaxing. Come and see for yourself! 
---
Customer Reviews
★★★★★
We enjoy doing business with Benson Stone Company. We recently purchased a dining room set, a corner desk set, a couch, ottoman and 2 chairs. All were delivered and set-up in our home as planned. The sales group and delivery personnel are all friendly and helpful. I recommend Benson Stone to all who have not yet experienced their wonderful store and warm people.
John, 2019
★★★★★
Our Design Consultant did a fantastic job of helping me choose and order my custom furniture – what a great person to work with. Thanks to Coleen, I thoroughly enjoyed the whole experience. My furniture also came in a few weeks early, and the delivery personnel were ultra-careful and respectful of my home and my new furniture. Benson Stone is an excellent place to buy furniture. It's the first place I mention when friends and family ask for a good place to purchase quality furniture.
Karen, 2019
★★★★★
Everything from purchase to delivery was top notch 👌. I bought some very high quality furniture for a really terrific price, actually the best price I could find for what I wanted.
Brenda, 2019