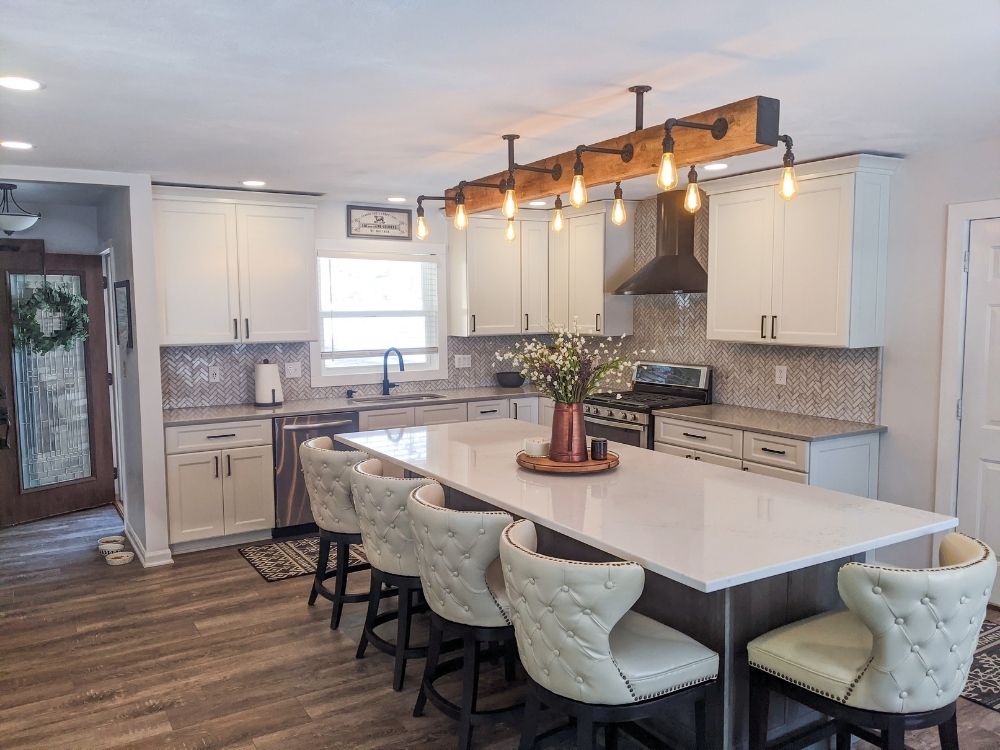 Let's all take a moment to admire the beauty of luxury vinyl flooring.
Is this your new favorite kitchen or what? Check out this awesome remodel project from our talented kitchen designer, Kayla. This design was truly a collaborative effort. The rustic vinyl flooring, quartz countertops and custom cabinetry came from us at Benson Stone, but this crafty couple installed the backsplash and built that awesome industrial lighting fixture themselves! These homeowners are in love with their new kitchen, thanks to a unique blend of elements that all harmonize perfectly.
But today, we're going to focus on that fabulous luxury vinyl plank flooring, or LVP.
The Beauty of Luxury Vinyl Flooring
This kitchen remodel project features Lux Haus II Multi Width Versailles luxury vinyl plank flooring by Engineered Floors. Premium vinyl flooring like this offers the richness and texture of traditional hardwood without maxing out your budget. Luxury vinyl flooring is also waterproof and damage resistant, so it'll last in your home for years to come. All in all, it's an excellent value, and a very popular choice these days. 
Meet Our Flooring Team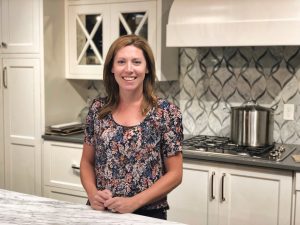 Kayla has been a flooring advisor for years, guiding customers toward the best choices to fit their home and their budget. She'll help to match you with the best options to fit your home construction, climate, traffic, family, moisture level, and lifestyle.
And our tried-and-true team of flooring installers is the best in the area! When it comes to your home, it's so important to choose experienced craftsmen with a strong reputation. Take the guesswork out of the decision by working with our in-house crew. 
We're so grateful to have qualified experts like these guys in the flooring department here at Benson Stone. Thanks to their hard work and dedication to quality, we've been voted the area's #1 Flooring Store! Special thanks to the team that pulled off this gorgeous flooring design and installation.
And thanks for looking!
To learn more about vinyl flooring, call the experts in our flooring department at (779) 210-3449.