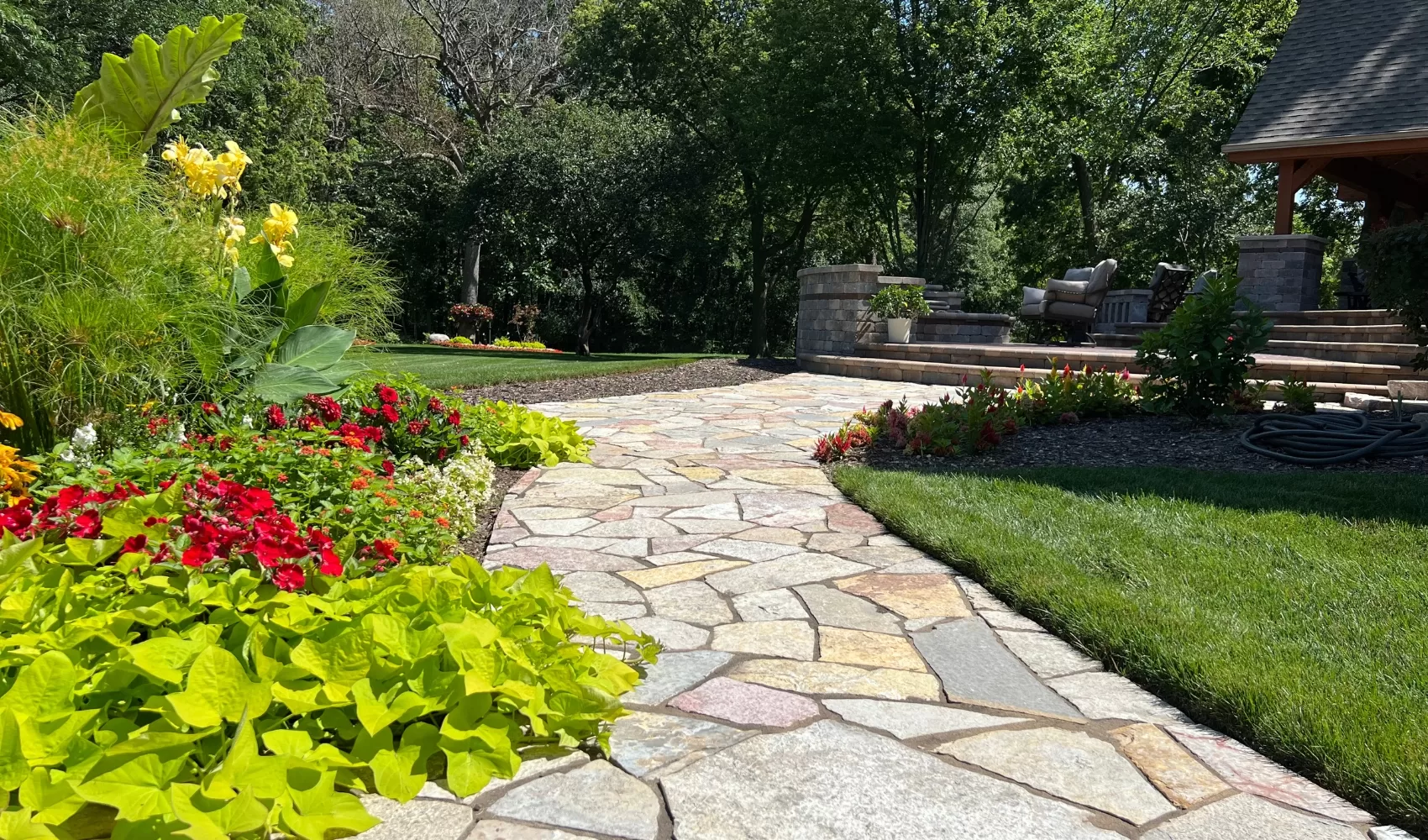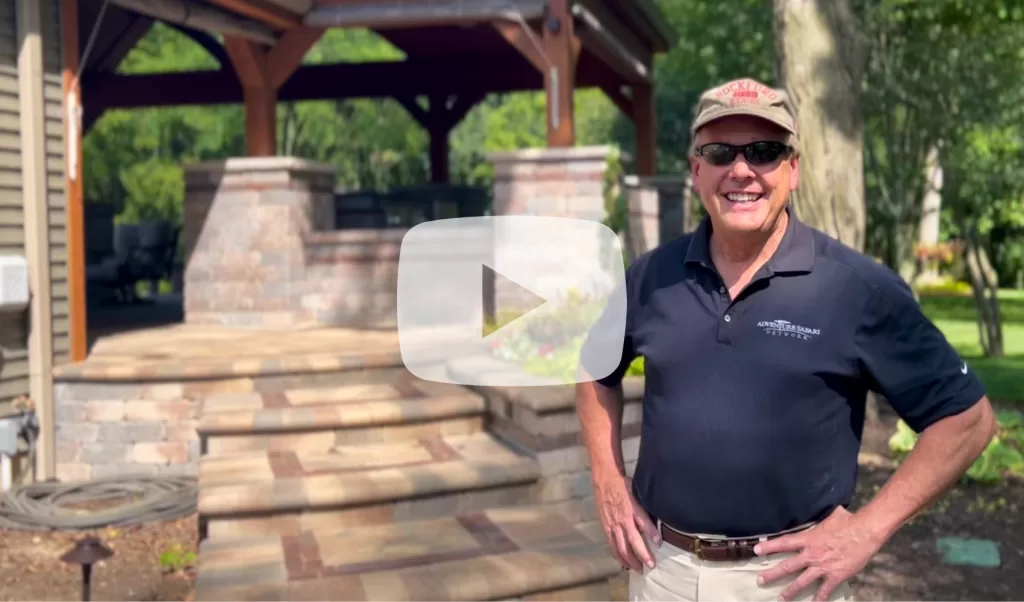 Join Us on a Private Tour of this Incredible Outdoor Living Space
When this homeowner invited us to come out and tour his elaborate backyard oasis, we were thrilled.
His property backs up to a forest preserve, and the wild native plants and birds are such a joy in the summertime. His wrap-around patio and gardens make the perfect place to host guests or just sit and breathe in the peaceful Midwest air.
We're proud to tell you that the homeowners selected all of their outdoor building materials right here at Benson Stone Co. Our teams also installed some of them! But this massive project was definitely a group effort. We have to shoutout the craftsmen at LawnCare by Walter for their masterful design & installation.
Just wait till you see this…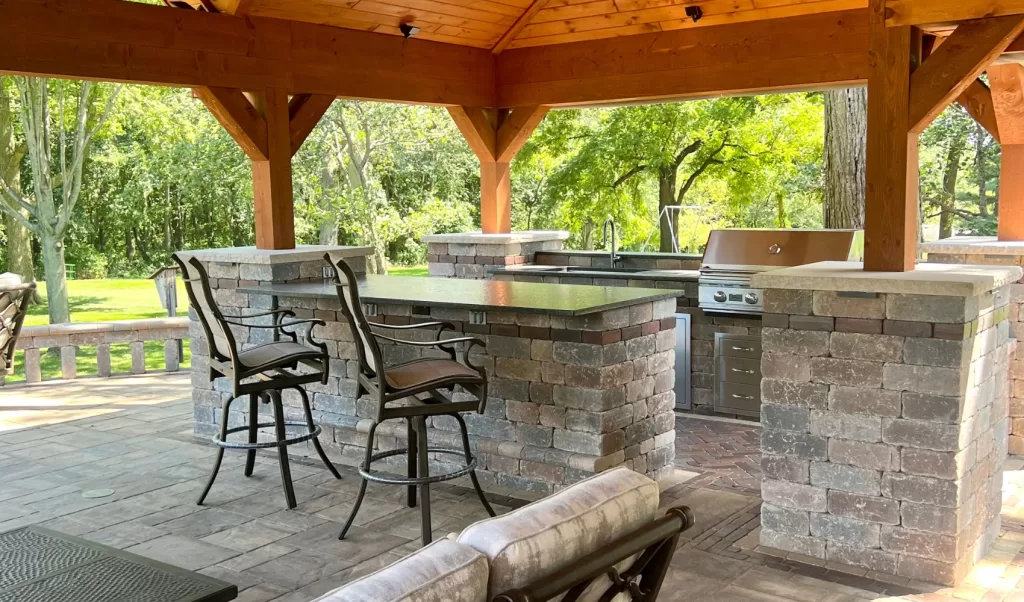 BBQ Grill Kitchen
Our tour starts in this open air BBQ grill kitchen. Imagine how much fun it is to cook in this beauty! It's got a spacious Summerset gas grill and a full suite of convenient stainless steel built-ins including a prep sink, mini fridge, warming drawer, and cabinets.
The gorgeous leathered granite countertops were fabricated here in our granite shop. You'll see a great close-up of them in the tour video. Our team installed the kitchen in the fall, and the weather was bitter cold and very windy. The homeowner told us how impressed he was that our guys were so jovial and accommodating despite the harsh temperatures. 
What can I say? They're pretty hard core. :)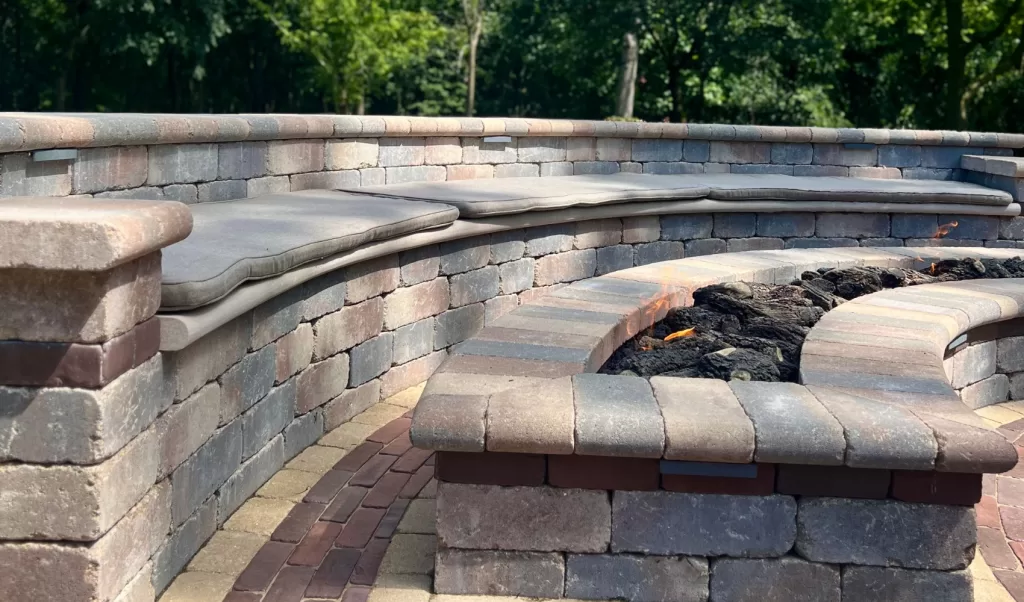 Custom Gas Fire Pit
Just opposite the outdoor kitchen, this curved gas fire pit creates the other edge of the sweeping patio. Kudos to our fireplace install team for crafting this gorgeous focal point! You can barely see the flames here in the daylight, but this sure makes a cozy spot to gather at night. Imagine sitting out late surrounded by the flicker of fireflies and the hoots of the neighborhood owls.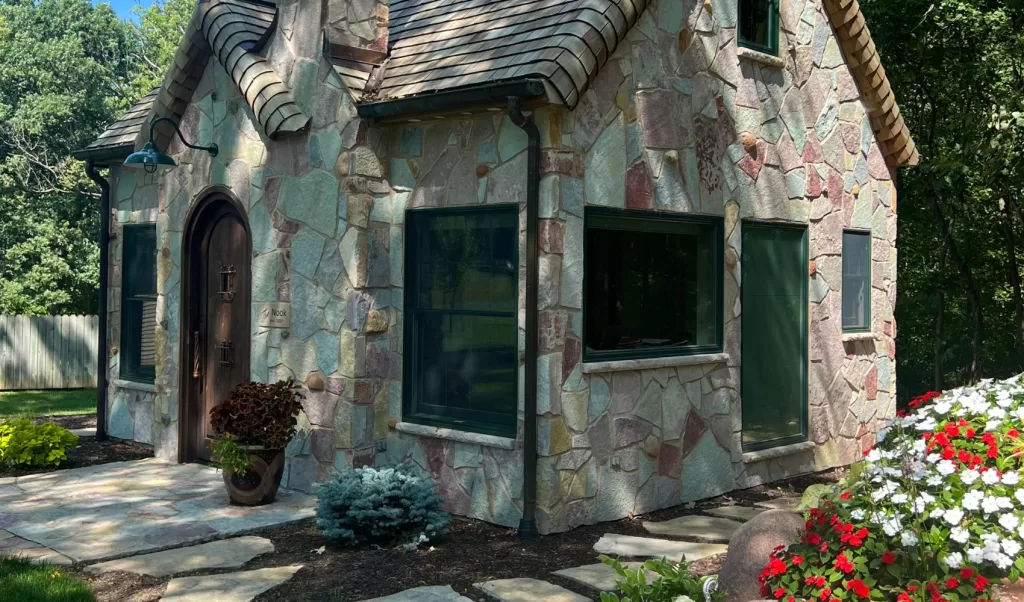 Flagstone Path & Guest Cottage
Step off the patio and follow the winding flagstone path toward the woods to find this delightful hidden gem. These folks built a guest cottage in their back yard, complete with a stone fireplace, loft bedroom, and a convertible office space.
The cottage is built with a rainbow of Chilton flagstone from a local quarry – the same cheerful stone that makes the garden path. Doesn't it look like it came straight out of a story book? You'd almost expect to see a little garden gnome pruning the shrubs. 🌿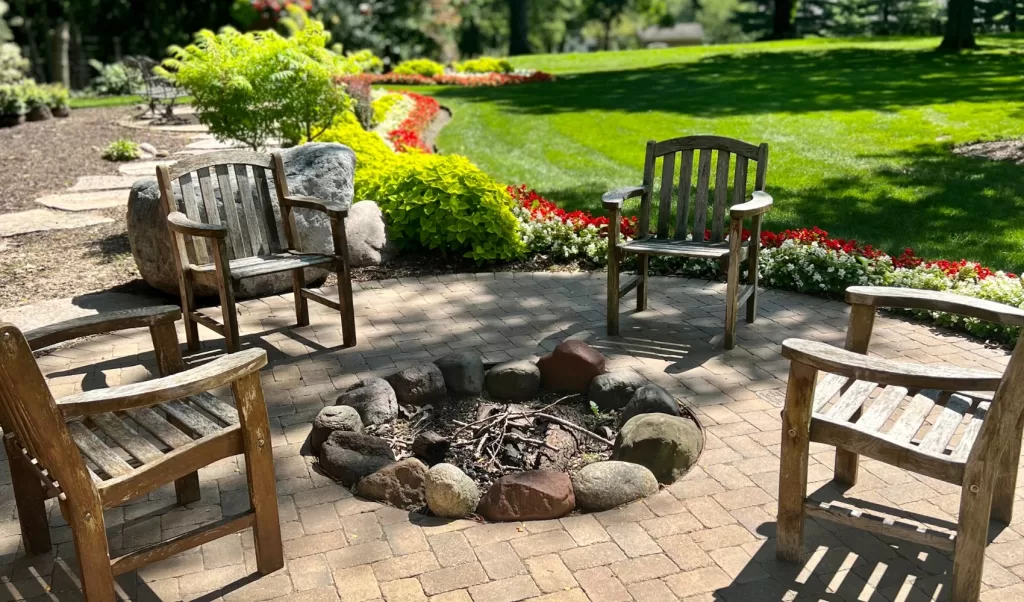 Campfire Circle & Boulder Garden
For now, we'll wrap up with the rustic campfire circle, nestled in right alongside the edge of the forest preserve. This makes a special spot for these loving grandparents to sit with their grandchildren and enjoy the crackle of a hand-built fire.
There are many more unique, heartfelt details to share in this project. You can see them all here in the video.
Thanks again to these generous homeowners for treating us to the grand tour of their outdoor living space. And thank YOU for reading.
Here's to the last few weeks of summer!
– Kim Benson